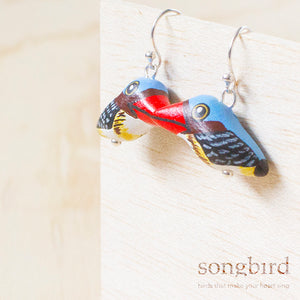 Banded Kingfisher Earrings
Sale price Price $34.00 Regular price
A strikingly beautiful kingfisher which is found in the lowland tropical forests of Southeast Asia, the male Banded Kingfisher has a bright blue crown and a strong red bill. Its binomial name in Latin is lacedo pulchella which literally translates to 'very pretty kingfisher'.
Each Songbird earring is skilfully hand-shaped from clay, fired, then hand-painted by our team of creative artisans in Northern Thailand. Because of their handmade nature no two birds are the same, making them even more unique and characterful.

• Sterling Silver Hooks.
• Presented plastic-free, in a fabric gift bag with story card.
Ethically handcrafted in Thailand
A portion of proceeds from the sale of our Asian Songbird Collection contributes to our Songbird Artisan Community Fund; providing health and education support for our artisans, their families and village community.