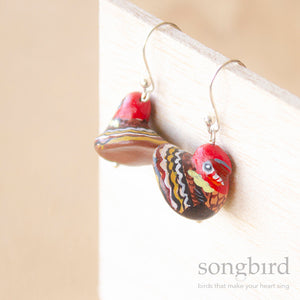 Wild Turkey Earrings
Sale price Price $34.00 Regular price
Wild Turkeys are found throughout North America and, unlike their plump, domesticated relatives, they are fast and agile fliers. The male's spectacular courtship display is a source of inspiration for Native American dances and costumes.
Each Songbird Earring is skilfully hand-shaped from clay, fired, then hand-painted by our team of creative artisans. Because of their handmade nature no two birds are the same, making them even more unique and characterful.
• Featuring sterling silver hooks.
• Presented in a gift box with story card.
Designed in Australia
Ethically handcrafted in Thailand