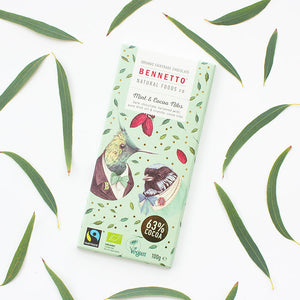 Chocolate - Mint & Cocoa Nibs
Sale price Price $5.00 Regular price
Beautiful Peruvian dark chocolate balanced with pure mint oil and good splattering of crunchy cocoa nibs.
Just as the cocoa is sourced from Peru, so too is the inspiration for the dapper and dashing bird illustrations that adorn each wrapping; illustrating with creative flair a different Peruvian bird species, drawn by New Zealand artist Henrietta Harris.
Handcrafted in New Zealand using Peruvian Fair Trade Cocoa
• No added dairy, gluten or soy
• Organic, Fair Trade Certified Cocoa
• Vegan certified through the Vegan Society
• Coeliac Society approved

Ingredients: Ground Peruvian cocoa beans, raw cane sugar, cocoa butter, cocoa nibs, peppermint oil, ground Madagascar vanilla beans.
Nutritional Information: Serving size: 20g, Serves per package: 5
Avg. Quantity per serving: Energy 477kJ, Protein 1.2g, Total Fat 8.1g, Saturated Fat 4.9g, Total Carbohydrates 8.5g, Total Sugars 7.3g, Sodium 0.4mg
Made in a facility that also handles milk, hazelnuts, almonds and soy.