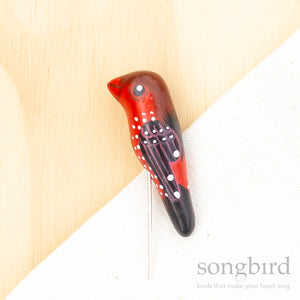 Strawberry Finch Lapel & Hat Pin
Sale price Price $17.00 Regular price
Found in small flocks throughout the tropical fields and grasslands of South and South East Asia the Strawberry Finch has incredibly attractive red plumage with distinct white spotted markings.
Each Songbird Pin is skilfully hand-shaped from clay, fired, then hand-painted. Because of their handmade nature no two birds are the same, making them even more unique and characterful.
Ethically handcrafted in Thailand
• Featuring silver plated pin and clasp.
• Presented plastic-free, in a fabric gift bag with story card.
• Twist pin clasp to remove, suitable to use as a lapel or hat pin.
• Length approx 8.5cm from tip of clasp to top of bird
Please note, due to their sharp pin our Songbird Pins are not suitable for children.