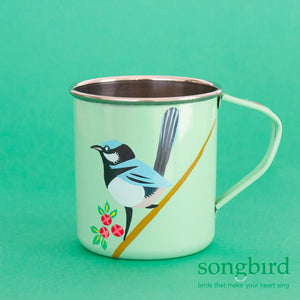 Wren + Boronia Mug
Sale price Price $20.00 Regular price
Introducing Songbird's delightful new Garden Tea Party range of hand-painted enamelware, ready for your next backyard cuppa!
Inspired
 by the daintiest of native birds that visit her garden daily, Songbird's founder designed these colourful pieces to capture the playful and inquisitive habits of her favourite garden visitors. Featuring beautiful native flora which provides not only a stunning backdrop to their daily shows, but an essential habitat and food source for our precious native birdlife.
Designed in Tasmania
Hand-painted in India, by Fair Trade artisans

• Individually hand-painted, stainless steel.
• Due to the nature of this handmade item there may be slight variations in colour and brushstrokes, meaning no two items will be exactly the same.
• Gentle hand-wash with warm water. Do not use abrasive cleaners. Do not put in dishwasher. Do not put in microwave or oven.
• Please note that the mug does not have an insulated outer and will be hot to touch if boiling water is held in the mug.