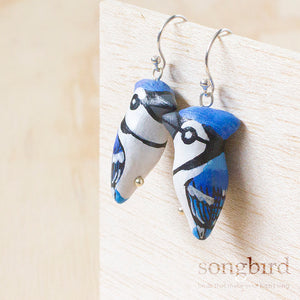 Blue Jay Earrings
Sale price Price $34.00 Regular price
An iconic bird of North America the Blue Jay is a talented singer able to mimic humans and other bird's calls. This talent, teamed with its bold gregarious behaviour helps to protect its nests from predators.
Each Songbird earring is skilfully hand-shaped from clay, fired, then hand-painted by our team of creative artisans in Northern Thailand. Because of their handmade nature no two birds are the same, making them even more unique and characterful.
• Featuring sterling silver hooks.
• Presented plastic-free, in a fabric gift bag with story card.
Designed in Australia
Ethically handcrafted in Thailand