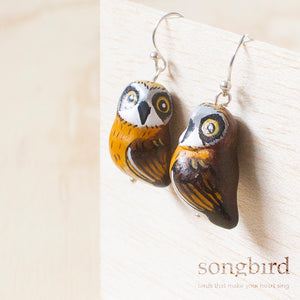 Boobook Owl Earrings
Sale price Price $34.00 Regular price
Spending their days hidden away in tree hollows, the Boobook Owl is Australia's smallest, and arguably most studious, owl species. Their call "boo-book!" is hard to miss, and their distinctly golden eyes help them spot prey, feeding on insects and small rodents.
Each Songbird earring is skilfully hand-shaped from clay, fired, then hand-painted by our team of creative artisans in Northern Thailand. Because of their handmade nature no two birds are the same, making them even more unique and characterful.
• Featuring sterling silver hooks.
• Presented plastic-free, in a fabric gift bag with story card.
Designed in Australia
Ethically handcrafted in Thailand