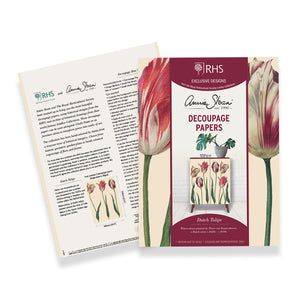 Annie Sloan® + RHS Decoupage Paper - Dutch Tulips
Sale price Price $22.00 Regular price
Dutch Tulips is a joyful floral Annie Sloan with the Royal Horticultural Society (RHS) Decoupage Paper. Pieter van Kouwenhoorn (or Couwenhoom) was a painter who flourished in the 1620s and 1630s in Haarlem and Leiden, within the Netherlands. These stunning watercolours of variegated tulips were painted around the time of Tulip Mania during the Dutch Golden Age. Annie Sloan has enlarged the design to make a gorgeously ostentatious floral statement against a background of Original Chalk Paint™.
All the papers from the Annie Sloan with Royal Horticultural Society collaboration including the geometric designs and the flora and fauna have been printed on dyed tissue papers. They have been designed to work best with Chalk Paint™ and Annie Sloan Image Medium. 
Pack contains 2 x Decoupage papers. 30 gsm.
Size: 700mm x 480mm
Please note that colours shown here will vary depending on screen settings. We cannot guarantee that paint colours will exactly match the colour you see on screen. If you are in doubt, please order a colour card or sample pot first.
® The Royal Horticultural Society. The Royal Horticultural Society, and its logo, are trade marks of The Royal Horticultural Society (Registered Charity No 222879/SC038262) and used under licence from RHS Enterprises Limited.