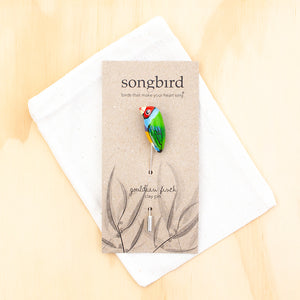 Gouldian Finch Lapel & Hat Pin
Sale price Price $17.00 Regular price
Perhaps as colourful as an artist's palette, the Gouldian Finch is named after the wife of British ornithological artist John Gould. This little beauty is one of the world's most popular pet finches because of its vivid, colourful plumage, yet is considered endangered in its native habitats of northern Australia.
Each Songbird Pin is skilfully hand-shaped from clay, fired, then hand-painted. Because of their handmade nature no two birds are the same, making them even more unique and characterful.
Designed in Australia
Ethically handcrafted in Thailand
• Featuring silver plated pin and clasp.
• Presented plastic-free, in a fabric gift bag with story card.
• Twist pin clasp to remove, suitable to use as a lapel or hat pin.
• Length approx 8.5cm from tip of clasp to top of bird
Please note, due to their sharp pin our Songbird Pins are not suitable for children.