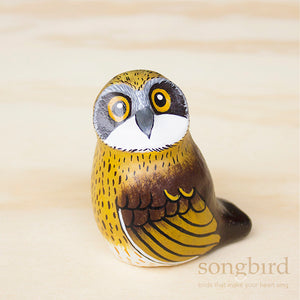 Morepork Paperweight Whistle
Sale price Price $40.00 Regular price
The Morepork or Tasmanian Spotted Owl is a small brown owl found throughout New Zealand and Tasmania. In Maori, it is known as Ruru, and belongs to the spirit world where it is seen as a watchful guardian.
Each Songbird paperweight whistle is skilfully hand-shaped from clay, fired, then hand-painted by our team of creative artisans in northern Thailand. Because of their handmade nature no two birds are the same, making them even more unique and characterful.
• Featuring a single note whistle.
• Presented plastic-free, in a fabric gift bag with story card.
Designed in Australia
Ethically handcrafted in Thailand
Please note our paperweight whistles are:
• not intended for use as a toy 
• not suitable for children under 5 years